Our Orthopaedic Centre in Janakpuri, West Delhi is operating since 1991 and provides a complete range of rehabilitation services to physically disabled children, especially those affected by polio and cerebral palsy. The services include surgery, physiotherapy, fitment of aids and appliances, all available under one roof and virtually free of cost to the children. To date:
More than 9,000 surgeries have been performed
Over 25,000 children have been fitted with aids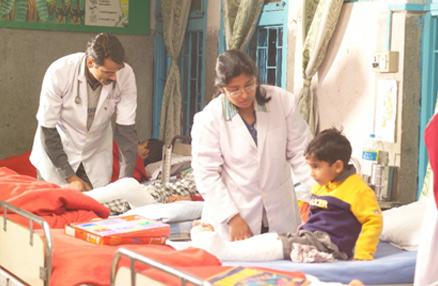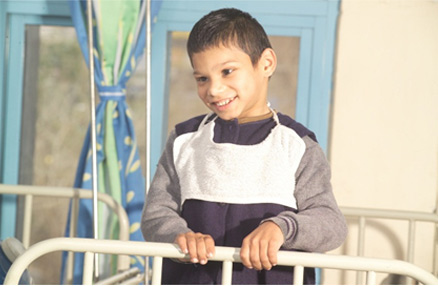 DCCW started a mobile orthopaedic programme in 1987 to carry orthopaedic services to the doorsteps of children inflicted by polio or other disabilities in their limbs. From there grew our fully-equipped Orthopaedic Centre in Janakpuri.
Today the services available at the Orthopaedic Centre include:
Surgery: Orthopaedic surgeons on our panel assess the children in weekly OPDs and conduct corrective surgeries.
Pre- and post-operative care: There are separate wards for boys and girls where pre-surgery tests, post-operative recovery and follow-up treatment is done.
In-house Workshop for Aids: Our orthotics workshop manufactures aids and appliances which are provided to the children as recommended by the doctor.
Physiotherapy and Occupational Therapy: Physiotherapy is available both to patients in the wards as well as those attending OPD.
We also provide:
Counselling for Children: Assessment by a clinical psychologist and guidance and counselling for children waiting to be operated are part of the preparatory procedures prior to surgery.
Vocational Training: The final stage of the rehabilitation process is vocational training where the older physically challenged children are encouraged to get back on their feet in every possible way.
A large number of the children reporting at the OPD at the Orthopaedic Centre are from neighbouring states. So we started the Outreach Programme in 1993 to extend our orthopaedic services deeper into the rural areas in the states of Haryana, Rajasthan and Uttar Pradesh, bordering Delhi. Camps are conducted in collaboration with local authorities and NGOs to assess patients and organise their treatment and follow-ups. Patients requiring surgery are referred to the Orthopaedic Centre. Children are measured for aids and appliances at the camps, which are then supplied to them through the local NGO.
Case Study : Vinita – from disability to ability
Fourteen year old Vinita who belongs to an underprivileged family in Delhi came to our Orthopaedic Centre for treatment in May 2017. Her father had expired in 2015 and her mother is working as a tailor to support her daughter and son. The family monthly income is about Rs.4000/-. When she came to the centre, Vinita had an awkward and uncoordinated walk. Her speech was also unclear.
As per our surgeon's assessment, Vinita's diagnosis was bilateral Genu Varum (bow legs) with deformed lower limbs. After getting all required lab tests, she was admitted at the ward for a series of corrective surgeries as follows:
Bony correction of right tibia and femur with linear fixator applied on 30/5/17
Imaging and Fixator readjustment done on 20/7/2017
Fixator Removal done on 6/9/2017
Corrective Osteotomy on left femur and tibia with linear fixator applied on 14/12/17
Fixator Removal done on 25/1/2018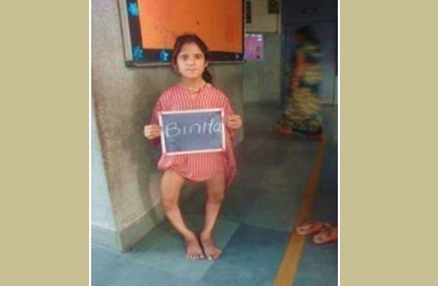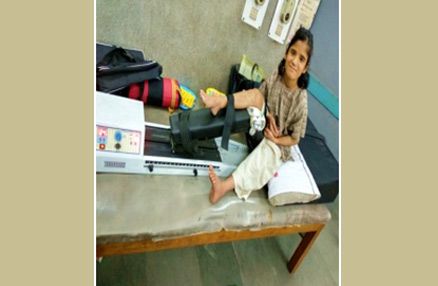 Our doctors and nursing staff took post-operative care of Vinita in the ward which included daily dressing, medication for healing of stitches, pain killers, special diet as advised by the doctors during her stay in our Ward and thereafter Our Physiotherapist gave her extensive therapy, active assistive exercises. As a result, Vinita is able to walk properly with the help of gaiters. Her physiotherapy is continuing to improve her knee flexing. She is also undergoing speech therapy to improve her vocalization.
Vinita is also attending our vocational training on beauty culture at the centre is doing well at Mehendi art. She has also developed confidence overall in herself and her abilities. We wish her success in her future endeavours.